<!BODY BACKGROUND="/gifjpg/lgback.gif" > <!BODY background="gifjpg/dplate.jpg">

High Schools - Bristol Twp. Pennsylvania

Invitations to the 55th Reunion of the
Delhaas-Wilson Class of 1960 are in the mail.
Please review and respond promptly
Looking forward to seeing everyone in October.
Slide Show
Class of 1960 55th Reunion
Save the dates 16 to 18 October 2015
Dinner Dance on Saturday, October 17, 2015
Radisson Hotel Philadelphia Northeast (Trevose)
please e-mail the committee at tigers-rams@buxcom.net
Reunion 2015
any visiting alumni !


Please e-mail tigers-rams@buxcom.net with any:

Name changes
Address changes
E-mail address changes
Telephone number changes
<!IMG SRC="gifjpg/arowrght.gif"> Please help us find our Missing Classmates.
In Memoriam:
Members Links
Photo Album

---
Class of 1960 50th Reunion
Dinner Dance on Saturday, October 2, 2010
Radisson Hotel Philadelphia Northeast (Trevose)

---
45th Year Reunion
Delhaas-Wilson High Schools - Class of 1960 <!/CENTER>

Was held Saturday October 22, 2005 at the Holiday Inn Select, Street Road, Trevose PA.
<!IMG SRC="gifjpg/arowlft.gif">


<!CENTER>
---


April 28th, 2004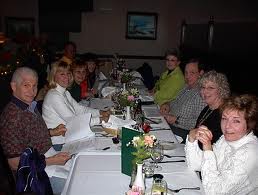 Joe Schein, Victoria Hopkins Peck, Betty Cahoon Hallowell,
Nancy Benner Janyszeski, Benjamin Janyszeski, Blanche Scioli,
Al Alter, Delia Alter, Jackie Weber (Katona),
John Brochon (behind the camera)
---
FORUMS FOR DELHAAS AND WILSON
Mitchell Stavitz has set up a free forum for DelHaas and Wilson.
Click on the links below and jump in!
Thanks a bunch, Mitchell!
DelHaas Tigers Wilson Rams
Watch this page for status updates
---
ARCHIVES

2000 REUNION DETAILS
The Committee
Who Was There?